The Hendricks Hill Museum
Southport, Maine
Help us get information on Southport houses: Old House Questionnaire
The latest newsletter is on-line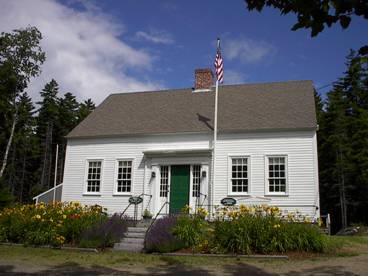 419 Hendricks Hill Road, Southport, Maine
Open Tuesdays, Thursdays and Saturdays
During July and August
Telephone (207)-633-1102
Directions:
Follow Route 27 south from US 1 in Wiscasset through Boothbay Harbor.
Go over the drawbridge to Southport Island.
The Museum is 2 miles beyond the bridge on Route 27 just past Ebenecook Road on the right.
The building pictured above is an 1810 house with eight rooms: kitchen, parlor, map room, marine room, pantry and three upstairs bedrooms. We also have a boatshop and an addition to the original building which houses three exhibit rooms and a reference room with various archival and genealogical materials.
The purpose of the Museum is to preserve items relating to life on Southport Island in the period from 1800 to 1950, such as
Seagoing tools of the schooner and fishing trades
Ice harvesting tools
Several wooden boats
Navigational instruments and charts
Carpenters' tools
Kitchen and household items
China both dressy and everyday
Furniture and clothing
Pictures of Hotels and Boarding Houses
Built by John Cameron circa 1810, the central building remained in the Cameron family for 100 years. They were a family of fishermen. One year their vessels flew the "high line", signifying that they had taken more fish than any other Southport family.
There is no admission fee, but donations are gratefully accepted either at the Museum or through P.O. Box 3, Southport, ME 04576
WELCOME
Home The House Boarding Houses Links Newagen P.O. Southport Fishing
Photographs Newsletters News Notes Old House Questionnaire
Updated: 04/03/2017 webmaster Contact Us